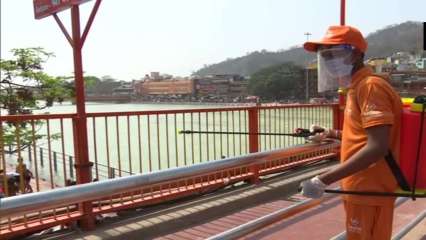 A leading media house of the country had quoted the Centre as saying that the ongoing Kumbh Mela in Haridwar is a COVID super-spreader and hoped all SOPs were being implemented on the ground.
This news published by @IndiaToday is INCORRECT and FAKE.#Unite2FightCorona pic.twitter.com/29J7GgN7mk

— Ministry of Health (@MoHFW_INDIA) April 6, 2021
However, the Union Ministry called this as false and panned the media house for spreading misinformation.
On April 6, The media house published a fake news report that claimed that the central government had alleged that Kumbh Mela was becoming a super-spreader of Coronavirus. The headline of the report read, "Kumbh Mela becoming a super-spreader event, hope SOP is followed: Centre". The description of the article clearly stated that according to the central government, the 'ongoing Haridwar Kumbh Mela is becoming a super-spreader event".
However, soon after, the Ministry of Health and Family Welfare took to Twitter, calling this report 'incorrect and fake'.It also posted a screenshot of the headline of the article and the description that said that Haridwar Kumbh Mela had turned into a "super-spreader event", the Ministry trashed the report.
Rajesh Bhushan, the secretary of MoHFW, said in a press briefing on Tuesday, "One fact that we usually lose sight of is that the duration of Kumbh has already been curtailed. Kumbh, wherever it happens, is usually for three-and-a-half to four months. The present Kumbh has already been curtailed to a month. So let's not lose sight of facts. At times when we tend to push in particular interpretation or narrative, we tend to lose sight of very basic facts."
"As far as super-spreaders events are concerned, the union government almost a month ago issued an SOP specifically for the practices to be adopted in Kumbh and had a longish meeting with the state government officers in which Dr Balram Bhargav and Dr Paul also participated and after that NCBC fielded four local inspection teams, two of which were led by director NCBC himself and they also shared with the state governments various protocols that need to be put in place," he added.


Read More

– Breaking News & Latest Updates from India

Read More

– Latest Post from Dna India

Disclaimer.
This news is auto generated from
Dna India
using automated computer software. We are not editing or creating this story. Therefore the Site is not responsible for any of this content.