Coronavirus Bhopal News: The city will unlock the corona infection rate below five percent in Bhopal
[ad_1]

Coronavirus Bhopal News: Bhopal, Navdunia Representative. The efforts of the government to control the corona infection in the entire state including the capital Bhopal are paying off. As a result, the corona infection rate is also decreasing continuously. On Friday, 324 corona patients were identified in the capital Bhopal. A total of 7051 samples have found so many patients in the investigation. Thus the infection rate was 4.5 percent. A day earlier in Bhopal, 389 new patients were found in the examination of a total of 7018 samples and the infection rate was 5.5 percent. If you look at the data for the last nine days, it shows that the infection rate has decreased by 5.5 percent. In the remaining three days of this month, preparations are being made by the district administration to bring down the infection rate to less than three percent.
Such infection rate is decreasing in Bhopal
Date – Infected patients – Total sample check – Infection rate
Coronavirus Bhopal News: Review of Kill Corona Campaign in rural areas
Also read
28 May– 324–7051– 4.5
27 May – 389– 7018– 5.5
26 May – 409– 7921– 5.1
25 May – 433– 5925– 7.3
24 May – 529– 7151– 7.3
May 23–572–7561–7.5
22 May– 577–7058– 8.1
May 21–649–7175–9.0
20 May– 609–6045–10

Bhopal Forest News: First shifting of elephants stuck with their disease, Corona stuck for two years
Also read
Preparing to unlock the city
The process of unlocking will start from June 1 in the state capital, Bhopal. Preparations are currently underway for this. Preparations for partial unlocking are underway from June 1. For the moment, shops related to everyday needs will be opened. It is also under consideration to open salons including groceries, fruits and vegetables. Apart from this, restaurants, hotels, malls, swimming pools, cinema houses, gyms will not open at the moment. Private institutions may be allowed to open with certain staff. Here, the night curfew is being contemplated in the city. There is also talk of putting a lockdown on Saturday and Sunday so that the infection does not spread. It is also being considered in how many stages the unlock will be opened. However all this will be decided only after the decision in the District Disaster Management Committee meeting. Here, Medical Education Minister Vishwas Sarang said that the entire city will not be opened simultaneously but will be unlocked gradually.

Cyber ​​Crime: Cyber ​​thugs also withdraw money from accounts without internet banking
Also read
May 31 goal to make the district corona-free
Collector Avinash Lavania said that efforts are made to free the corona-free district by May 31 by identifying samples of people with symptoms and providing necessary health services in every village, ward In the second wave of Kovid, the number of positive people is decreasing rapidly. In such a situation, re-contact tracing is being done to end the corona infection.
Bhopal News: Families of IAS officers are providing ration to the needy in Bhopal
Also read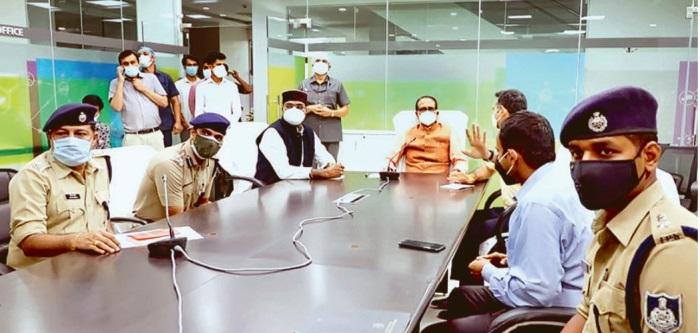 CM suddenly arrives at Govindpura Smart City office, encouraging patients with home isolation
Chief Minister Shivraj Singh Chauhan suddenly arrived at Govindpura Smart City office late on Friday evening. Here he interacted with people in home isolation and encouraged them. While praising the preparations of the Bhopal district in terms of providing medical facilities, facilities to talk to psychiatrists through tele calling, he said that the Bhopal district is giving better results. This type of experiment should also be used in other districts. The rate of infection has been consistently low. Bhopal is getting good results due to positive thinking and better planning. Continue this continuously.
[ad_2]