Sarva Dharma Prarthana: Two minutes silence was observed by the principal and teachers in the memory of the departed for all religion prayers held in the schools of the city.
[ad_1]

Sarva Dharma Prarthana: Bhopal, Navdunia Representative. On the call of Navdunia, a prayer meeting was organized in all the government and private schools of the capital at 11 am on Monday. Along with this, all religion prayer was organized in the offices of the School Education Department. Teachers' organizations also observed a two-minute silence.
Sarva Dharma Prarthana Sabha was organized in the capital's school of excellence, Mahatma Gandhi Umaavi, Government Umavi, Jahangirabad, Sardar Vallabhbhai Patel Government Primary School, Shaumavi, Bagsevaniya and other schools. District Education Officer participated in the prayer meeting organized at the School of Excellence. In the courtyard outside the school, District Education Officer Nitin Saxena, Principal Sudhakar Parashar and other teachers and employees observed silence for two minutes. On this occasion, the District Education Officer said that in the second wave of Corona, many people lost their loved ones and how many people got infected. Every family was affected by the corona pandemic. Praying for them gave him strength.
Sarva Dharma Prarthana: Prayers were offered at Chhindwara, Vidisha Rajgarh, Narmadapuram, Ashoknagar, Sehore, Sagar, Guna, Harda and Betul
read also
On the other hand, Upendra Kaushal, the state coordinator of the Government Teachers' Organization, offered prayers with the family for the betterment of the health of the people infected with the corona epidemic and the corona warriors and for the peace of the souls of those who died from the corona. Arvind Bhushan Srivastava, the state convener of the Government School Teachers Committee, along with the family performed havan-puja for the peace of the souls of the corona deceased. In Mahatma Gandhi Umaavi, Principal Hemlata Parihar observed a two-minute silence along with the teachers.

Minister Narottam Mishra said, Congress and Digvijay Singh want to destabilize Kashmir
read also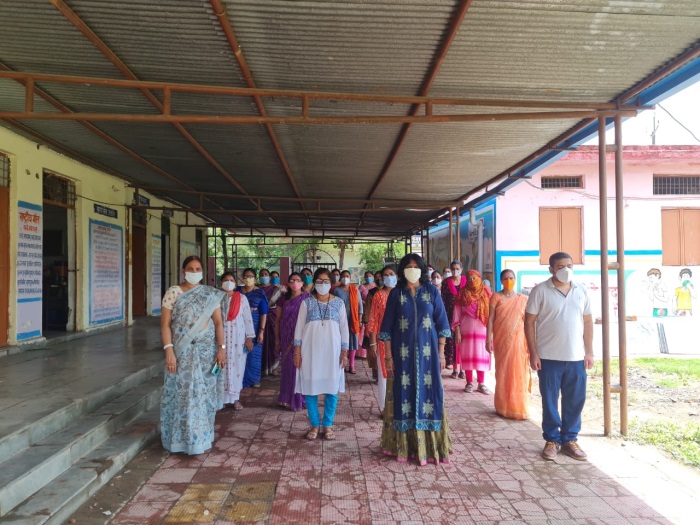 In Government Umavi Bagsevaniya, Principal Shiksha Yadav along with the teachers paid tribute to the departed souls by observing silence in peace. In Sardar Vallabhbhai Patel Government Primary School, Headmaster Subhash Saxena organized Sarva Dharma Prarthana along with teachers and employees. Similarly, Dr. Usha Khare, Principal of Government Girl Umavi, Jahangirabad, organized an all-religion prayer meeting. After this tree plantation was also done.
[ad_2]