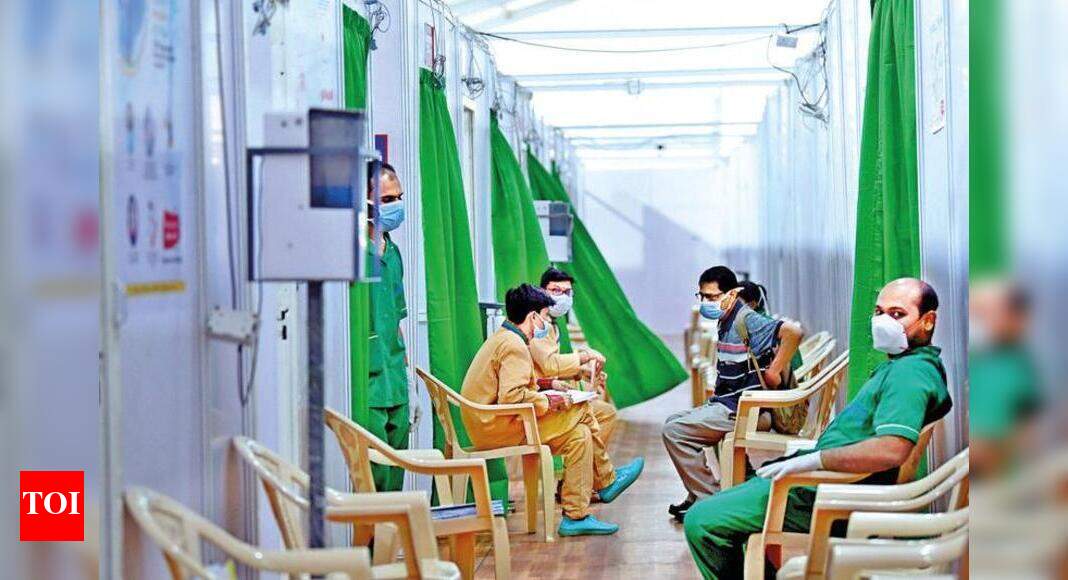 MUMBAI: Unlike their bigger counterparts that have vaccination beneficiaries running into lakhs, districts such as Aurangabad, Sangli, Buldhana, Jalgaon, Latur, Beed, Jalna and Parbhani have only 10,000 to 40,000 registered healthcare workers. Yet, all vaccinated between 43% and 48% of this range.
The experience with frontline workers, though, has been quite the contrary. Less than a fortnight since their vaccination started, the state has covered 28% of the 6 lakh registered in this category, a coverage that is as good as the national average. The performance of some of the bigger districts such as Pune — 6% coverage — has been sluggish. Even Mumbai has covered a little over 15%. In all, 1.65 lakh frontliners have been covered in the state.
District-level officials said the reasons for average to low coverage of healthcare workers range from hesitancy to misconceptions about vaccination. Officials from Sangli, which has the lowest coverage in the state besides Aurangabad, even blamed it on data duplication. Civil surgeon Dr Sanjay Salunkhe said that of the 34,599 registered beneficiaries, at least 4,000 entries are duplicate. "Some are also triplicate. This has inflated our overall registered numbers. If we remove these entries, our coverage would rise to 50%," he said, adding that the district has vaccinated nearly 15,000.
An official from Jalgaon, who did not wish to be named, said the factor of hesitation was "quite strong". "It's a new vaccine that has been developed in record time. Hence, health workers are sceptical, but the recent spurt in cases could push up the numbers. It has come as a reminder that the pandemic is not over," he said. But according to Dr Shyamsunder Nikam, civil surgeon from Amravati, overall vaccination among healthcare workers may not exceed 70% in many districts after all.
About the dwindling coverage, public health officials argued that Maharashtra had the highest registered healthcare workers among states, almost accounting for 11% of national numbers, and hence 55% coverage cannot be called poor.
Among good performers, Bhandara and Palghar have come at the top, having covered 75% of their 9,193 and 18,381 beneficiaries respectively. In absolute numbers though, Mumbai has vaccinated the most (91,627).
Principal health secretary Dr Pradeep Vyas said it was not much of a concern. "Coverage in the organized health sector, that is big hospitals and nursing homes, is very good. It is single doctors or small clinics who have got their names included and so the state's denominator increased; they are now taking time to come forward," he said, underlining that the vaccine was new and vaccination was voluntary.
Taking a dig at Bihar, where a recent expose showed several fake entries in testing data, Vyas said, "We are doing it systematically and not like dummy phone number issues in some of the states." Incidentally, the Centre on Tuesday said that Bihar's vaccination coverage was 81%, the highest among states and UTs.
Disclaimer.
This news is auto generated from Times of India using automated computer software. We are not editing or creating this story. Therefore the Site is not responsible for any of this content.