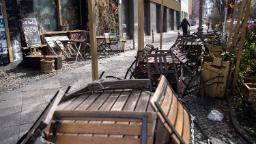 Yes, the number of vaccinated people is rising steadily across the US But right now, experts say, it is critical to double down on
attempts to lower Covid-19 case numbers
. That means staying at home, wearing a mask and avoiding crowds.
Doctors worry that since not enough people are protected against the virus yet — only about 13.5% of the US population is fully vaccinated — the virus will continue to spread rapidly. That will give it more opportunities to mutate, and so increase the risk of a new variant emerging that could make the vaccine less effective.
Public health officials are urging Americans to delay travel, but people are hitting the road anyway. The Transportation Security Administration screened more than 1.5 million people at airports nationwide on Sunday — a new pandemic-era record, and the 11th straight day that it has screened more than a million people. And some states are continuing to lift restrictions — even as case numbers remain high.
Centers for Disease Control and Prevention director Dr. Rochelle Walensky said the White House is encouraging governors, as well as the private sector, to maintain or reimpose coronavirus restrictions.
Cases are rising globally. The World Health Organization said yesterday that the number of new infections had risen for the fifth consecutive week.
YOU ASKED. WE ANSWERED.
Q: I am fully vaccinated. Can I visit my unvaccinated family and friends?
"In the setting that the unvaccinated people are from a single household, and all the unvaccinated people are at low risk of severe Covid-19 illness, no prevention measures are needed, so these visits could happen indoors with no mask or physical distancing," said CDC epidemiologist Tami Skoff.
WHAT'S IMPORTANT TODAY
AstraZeneca faces more questions in the US
A statement by the US National Institute of Allergy and Infectious Diseases said the Data and Safety Monitoring Board had "expressed concern that AstraZeneca may have included outdated information from that trial, which may have provided an incomplete view of the efficacy data."
AstraZeneca is expected to apply for emergency use authorization for its vaccine in the next few weeks.
Covid-19 vaccines are for sale on the dark web
The dark web is a part of the internet not detected by search engines where cybercriminals often sell and buy illicit materials, from credit card numbers and drugs to cyberweapons and now, apparently, coronavirus-related products.
Ontario in the third wave amid worries about slow vaccine rollout
Public health officials have warned that the vaccine rollout isn't going quickly enough to halt a potentially devastating third wave in other areas of the country. Prime Minister Justin Trudeau said yesterday that vaccine shipments would continue to ramp up, but officials are now faced with the possibility that the vaccines will not be distributed in time to avoid a significant number of hospitalizations and deaths.
ON OUR RADAR
TOP TIPS
Humans have never been so dependent on technology as this past year. Some of it has been fun and brilliant, some of it an exhausting battle for attention.
TODAY'S PODCAST
"We can save more lives if we're sharing vaccines." — Dr. Krishna Udayakumar, director of Duke University's Global Health Innovation Center


Read More

– Breaking News & Latest Updates of United States

Read More

– Latest Post from CNN

Disclaimer.
This news is auto generated from
CNN
using automated computer software. We are not editing or creating this story. Therefore the Site is not responsible for any of this content.