MUMBAI: The charred bodies of three crew members were recovered by the Indian Coast Guard from the offshore vessel (OSV) Greatship Rohini on Sunday morning, 24 hours after a fire broke out in its engine room.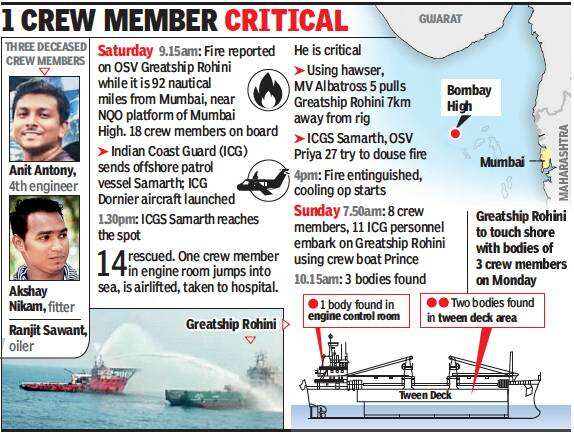 The body of fourth engineer Anit Antony (31) was found in the engine room, while those of fitter Akshay Nikam (25) and oiler Ranjit Sawant (49) were recovered from the tween deck area by the search-and-rescue team around 10.15am. "The bodies were burnt beyond recognition…Casualty investigation has been ordered. Captain Jayakumar, principal officer, MMD Mumbai, will conduct the inquiry," director general of shipping Amitabh Kumar said.
The blaze broke out in the engine room on Saturday around 9.15am when the ship was 92 nautical miles (around 170km) from the Mumbai shore, near NQO platform of the ONGC-managed Mumbai High. "The fire was contained in the engine room and was doused at 4pm on Saturday. There were 18 crews onboard of which 14 escaped unhurt," Kumar told TOI.
Electro-technical officer Gurbeender Singh Chima (37) from Ludhiana, who was airlifted to hospital after he jumped into the sea, is critical in Masina Hospital, Byculla. He was in the engine room when the fire broke out. "He has sustained 78.5% burns and his condition is extremely critical," said plastic surgeon Dr Suhas Abhayankar, who consults at the hospital.
The three bodies will be brought to shore on Monday, along with the ill-fated vessel by Greatship Anjali, another offshore vessel. The bodies will be sent to JJ Hospital for DNA testing.
Yellow Gate police registered an accidental death report. "We will probe the incident and initiate action if negligence is found," said senior inspector Suhas Hemade.
OSV Rohini was used as a transportation vessel for supplying food to the ONGC platform. The firefighting lasted over seven hours before the flames were extinguished. But, due to excessive heat and smoke, the search-and rescue team onboard OSV Rohini could not enter the engine room till Sunday morning.
Anjali Kumar, general manager, corporate finance and communication, The Great Eastern Shipping Co Ltd that owns Greatship Rohini said that the company is liaising with the authorities and keeping them apprised of the situation. "The cause of the fire can only be ascertained after a detailed investigation," Kumar said.
Managing director of Albatross Marine Services Philip Mammen told TOI that the captain Sagar Badade of Albatross 5 was among the first to reach the spot and pull OVS Rohini away from the NQO platform. "Timely action helped avert a major disaster from taking place at the rig," he said.
Disclaimer.
This news is auto generated from Times of India using automated computer software. We are not editing or creating this story. Therefore the Site is not responsible for any of this content.