Huge crowd of Congressmen in Indore towards Divisional Commissioner's office, Karni Sena also joined with saffron flags
Indore, New Dunia Rep. Congress leaders came out to gherao the Indore Divisional Commissioner's office against the action of District Magistrate on Congress leader Raju Bhadauria. All the leaders along with former Chief Minister Digvijay Singh led a protest rally of more than five km. Karni Sena also joined the rally with saffron flags.
Around 2000 people in the protest rally which started from Bapat crossroads. joined in. Along with Digvijay Singh, senior leaders including Bala Bachchan, Sajjan Singh Verma, Ravi Joshi, Vijayalakshmi Sadho, Jitu Patwari, Sanjay Shukla, Vishal Patel were in the chariot. Along with them, women workers and others also joined the rally riding in vehicles and chariots. The police were monitoring the rally with a drone.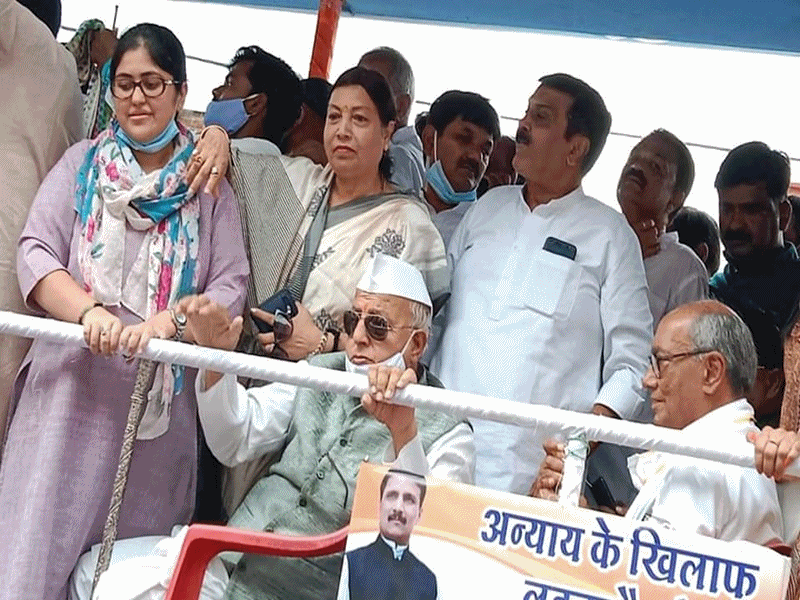 Police officials asked the activists not to use force without orders during the protest Order has been placed. Congress leaders got angry when Karni Sena people joined the protest. Congress leader Devendra Singh interrupted Karni Sena objecting to their participation in the demonstration.
UPDATING……………..
Posted By: Sameer Deshpande